Fire Resistant Steel Conveyor Belt
Brand : GRANGD RUBBER
Product origin : China
Delivery time : 25 Days
Supply capacity : 5000M/Month
Usage:
Steel cord conveyor belt is extensively used in long distance, high strengthand heavy load transportation of materials, and also it can be used on specialoccasions maybe the strength is high and the distance is short.

Applications: Coal mining, minerals extraction, port conveying, power, metallurgy, steelplants etc.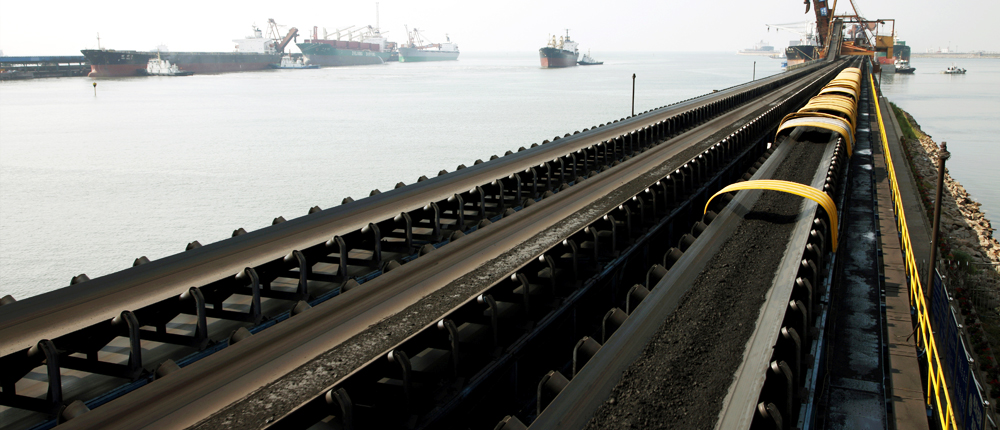 Advantages:
1 Hightensile strength: For large span, long distance to convey materials, the beltsare quite suitable.
2 Smallelongation during use: Steel cord conveyor belts need shorter take-up strokedistance than any other kind of conveyor belts.
3 Highadhesion between cover and steel cords: Because the steel cords surface arecoated with zinc, and our rubber covers have property of good adhesion, so therubber cover has better adhesion with the steel cords. The rubber is resistantto shock and not easy to drop, then the belts have longer service life.
4 Eventension of steel cords: We have advanced techniques in manufacturing steel cordconveyor belts, we can arrange the steel cords very evenly and keep them havesame tension, so the belts are well balanced during running and not easy to runaway.
5 Goodtroughability: Because there is no transverse skeleton in the belt's body, so adeep trough will be easy to be formed, then the belts can load much materialsand prevent the materials from escaping.
6Small diameter of drive pulley: Since in the belt body there is a layer oflongitudinally arranged steel cords as its carcass, so it is resistant to flexfatigue. So the conveyor can use smaller diameter drive pulley to make the equipmentsmaller.
7 Inspectionof the belt with X-rays: In order to prevent accidents from happening, userscan inspect damages of the skeleton steel cords on the conveyor machines byX-rays.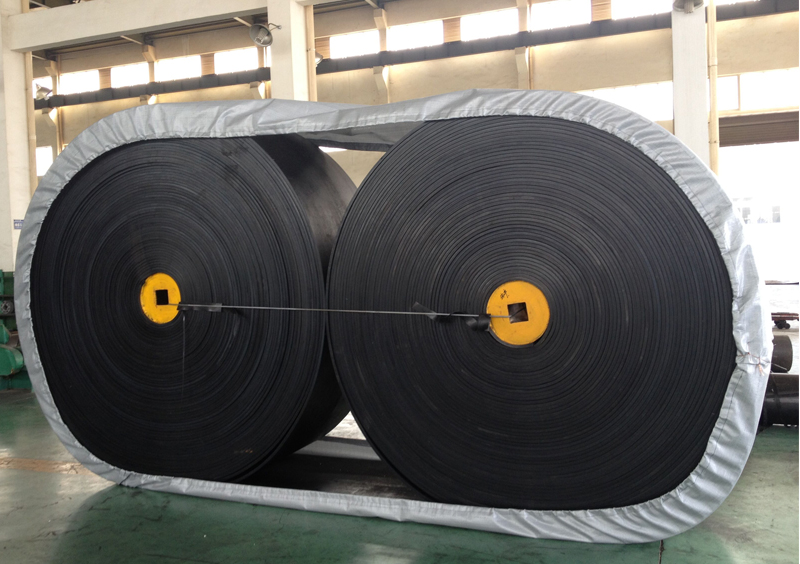 Classificationof Steel Cord Conveyor Belt
Bydifference of belt construction, we can offer:
1Standard construction steel cord conveyor belt
Standardsteel cord conveyor belt can be produced with the following rubber coverproperties:
Abrasionresistant
FireResistant
FlameRetardant
HeatResistant
ChemicalResistant
ColdResistant
OzoneResistant
Impactresistant
(Detailson standards applicable available)
GrandRubber applies the open type steel cords that can make the rubber penetrateamong the steel cords. This will minimize the corrosion of the steel cords inside in case of any damage to the belt. Open steel cords also have higherelongation which allows excellent energyabsorption in case of impact and easy transition from a toughed to a flat belt.
2 Ripresistant steel cord conveyor belt
Insertone or two layers of rip resistant fabric between the top cover and cords orbottom cover and cords. Then the belt has higher resistance to longitudinalrips. By using different rip resistant materials we can offer rip resistantsteel cord conveyor belt with steel breaker, the rip resistance is 125-800N/mm,rip resistant steel cord conveyor belt with textile breaker, the resistance is50-80N/mm.
Remark:In order to select the proper breaker to meet your applications, please contactour technicians.
3Impact resistant steel mesh cord conveyor belt
Thesteel cords joined the impact weft cords with impact cover compounds form thebelt, so the belt has bigger resistance,muchsuitable to convey big lump sharp materials such as stone quarries. The workinglength should be not longer than 1.5KM.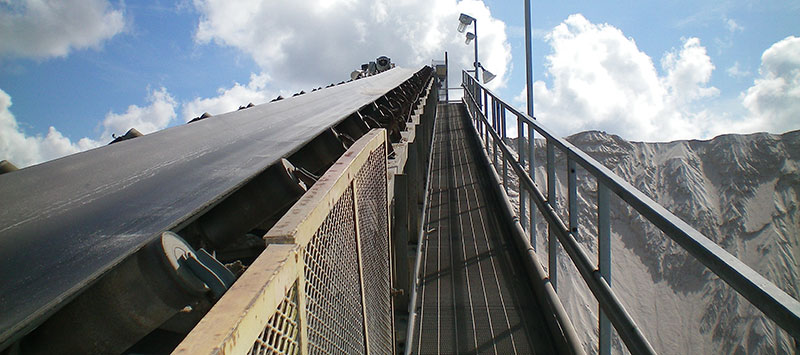 TechnicalStandard:
GrandRubber manufactures steel cord conveyor belt to various strengths and covers,standard construction, rip resistant, impact resistant all to GB/T9770, DIN22131,DIN22103, AS1333, JIS K6369, EN ISO15236.
Main technical index of ST series steel cord conveyor belt:
GB/T9770 Standard: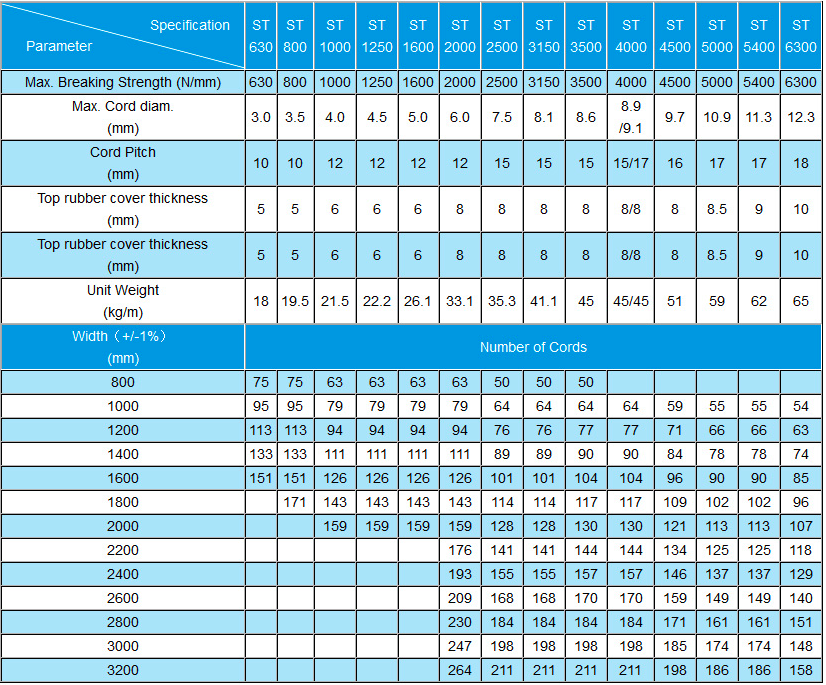 DIN22131 Standard: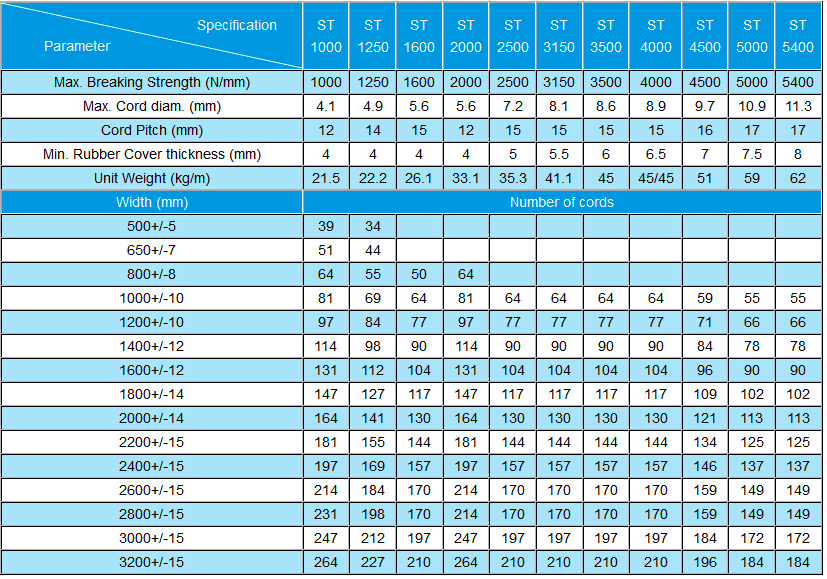 Technical data of steel cord conveyor belt: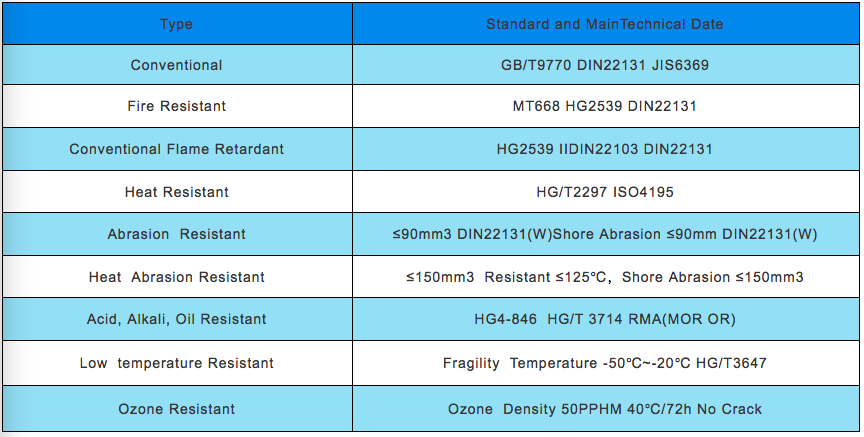 Min.pulley diameter:

Please feel free to give your inquiry in the form below. We will reply you in 24 hours.